About Pad Printing
Pad Printers designed for production, business, or home are easy to learn, operate, and achieve perfectly registered repeat prints on almost any surface, article, or product, using fast drying inks - 10 to 20 seconds drying time. Printers are supplied with Magnetic Printing Plate Holder, Blades, Pads, Inks, basic accessories and full Instruction Material.
Plastic, Metal, Glass, Ceramic, Wood, Paper, Card, Fabric, Cotton.
Articles of all kinds and shapes can be printed or decorated using a RElSCH Automatic, Semi-automatic or Manual Pad Printer - Novelties, Souvenirs, Promotional Products, Leather and Wood Products, Advertising articles - Cigarette Lighters, Pencils, Pens, Give-aways, Metal & Plastic items, unusual and odd shapes such as Golf balls, Wine glasses, an EGG, a WALNUT or even a polished round stone paperweight!
Pad Printing is an indirect intaglio process where the etched image on a flat plate is tilled with ink by a 'spatula' or wiper, the excess ink wiped off by a doctor blade, leaving ink only In the etched image. This ink is then picked up by a silicone rubber pad and transferred to the product surface. The etched image can vary from .0005" to .0015", by exposure of a film positive to the sensitized surface of a Nylopolymer or steel plate. The pad is basically a silicone rubber compound, molded to geometrically determined shapes. In order to transfer images with the minimum peripheral distortion onto flat or curved surfaces. Being elastic the pad shapes itself to the product surface. The pad shape usually relates to the image size and product shape.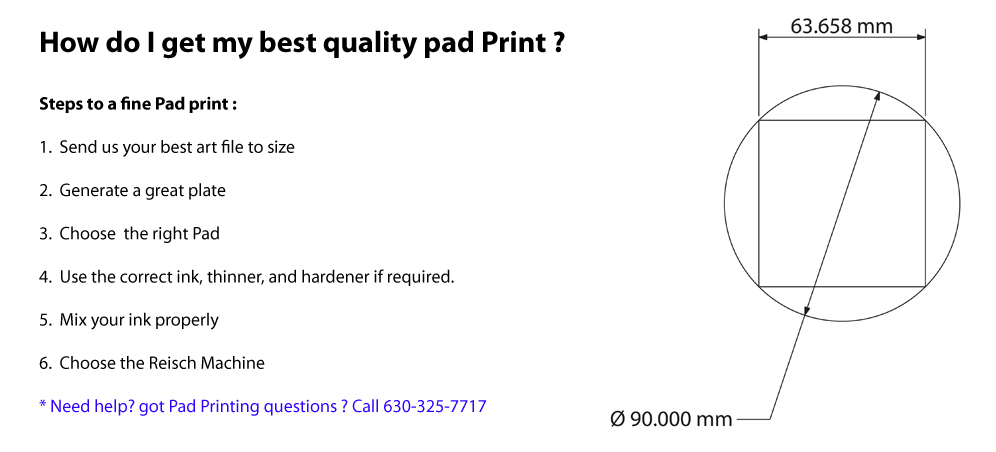 Therefore, pads are made in many shapes, contours and densities to accommodate a multiplicity of product forms. A basic range of about eight pads offer excellent printing onto approximately 90% of the printed products shown here. Many articles can be printed relatively cheaply, and in many cases very profitably by comparison with traditional processes. With a manual machine, printing rates of up to 600 units or prints per hour are attainable. An automatic printer will offer in excess of 1200 prints per hour, manually fed. Printing rates, naturally are subject to many factors, such as, product texture, substrate, shape, ink type used, drying times, etc. Pad elasticity offers many possibilities - single and multi-color printing onto round, concave, convex, uneven, textured - almost any surface or substrate. Re-usable inks are available for fast drying applications - 10 to 20 sec. drying time. Also two-pot catalyst inks for more difficult substrates such as anodized or plated metals, polypropylene, polyethylene, polyamide, phenolics such as laminated plastics, Ceramics and Glass products.
Generally, Pad Printing inks have been especially developed and adapted for quick application and drying times, and in many cases are immediately stackable. About 75% of the products shown here, except glass, have been printed with a single re-usable ink type. These quick drying inks are easy to work with, and are very resistant to abrasion and chemicals. Two component inks are used where there is a need for high wear resistance and durability. These inks take several hours to cure, but this process can be speeded up by heat treatment after printing. Glass Inks, for example only require heat treatment in a standard domestic oven to affect a full dishwasher proof cure. Repeat registration Is so accurate that several duplicate prints can achieve an effect very similar to the raised letter or 'embossed' effect created on quality business cards by more expensive and difficult thermographic printing processes.
With minimal Set-up costs, Pad Printing is a very economical way to print, mark or decorate. It is one of the few economic methods of printing Company Names, Logos and Advertising onto a wide range of products. On another wide range of products such as Golf & Sports Balls, Ski poles and gear, Transfer Pad Printing is perhaps the only satisfactory method of marking and logo Printing.